SEMIFINALS!
#5 Eagles to HOST
#8 Collingswood
Friday, November 21 7pm
---
Playoffs, Round 1:
WD knocks off
#4 Glassboro, 45-16!
Game Recap: NJ.com, Philly.com
WD up to #5 in South Jersey!
---
Week 8: Eagles make it a happy Homecoming,
defeat Collingswood 34-7!
Game Recap: NJ.com
More: Kevin DeCaesar's Big Game!
---
Week 7: Eagles down Haddon Heights, 49-0!
Game Recap: NJ.com
WD ranked #7 in South Jersey! (Philly.com)
---
Week 6: West Deptford silences Woodbury, 41-0!
Game Recap: NJ.com
---
Week 5: WD blanks Haddon Township, 49-0!
Game Recap: NJ.com
---
Week 3: Eagles take down the Rams, 51-0!
Game Recap: Star Ledger
---
West Deptford Duo Takes to Air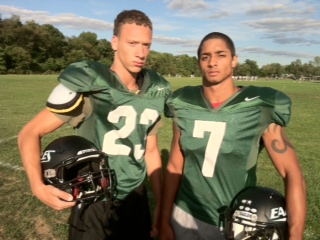 West Deptford is 2-0.
No surprise there.
The Eagles have run for 580 yards.
No surprise there.
They also have six touchdown passes.
Big surprise there.

Read more here!
---
Week 2: WD defeats Audubon, 63-0!
Game Recap: South Jersey Times
Eagles Ranked Top 10 in South Jersey!
#8 in Philadelphia Inquirer
#9 in Courier Post
Isaiah Easterling Named a NJ.com Football Hero
for Week 3!
---
Week 1: WD beats Sterling, 27-10!
Read more: Courier Post, Philadelphia Inquirer, The Star Ledger
West Deptford's Preston Harcum stretches over the goal line for a touchdown as he is tackled by
Sterling's Richard Carter in the second quarter. ELIZABETH ROBERTSON / Inquirer Staff Photographer
---
30 Teams in 30 Days -- WD Football
courtesy of the Courier Post
Click here!
2014 Training Camp Confidential
courtesy of the Philadelphia Inquirer
Click here!
---
Check out our 2013 photos courtesy of our yearbook photographer using the link below.
---
Congratulations Colonial Conference Champions!
Twenty-nine wins in a row!
---
CONGRATULATIONS
GERALD OWENS
BREAKING THE WDHS
CAREER TOUCHDOWN RECORD!
66 Touchdowns!
---
Visit other stories and photos from the 2013 football season here.
---
---
Welcome to West Deptford High School Football!!!
We are inviting all parents to get involved in our Parents Club organization regardless of your time commitment.
The "extras" that are provided by the Parents Organization help promote interest and camaraderie in our program.
Please consider joining our Eagle family in an attempt to provide our athletes with the best opportunity to
experience a positive and rewarding football career.
If you have any questions or concerns please contact me at
WDHS (856) 848-6110, ext. 2257 or cfolsom@wdeptford.k12.nj.us
Please visit our entire football website for highlights and upcoming events.
Coach Folsom